Game Client
A3 Installer
File Name:
A3ManiaInstaller.msi
File Size:
2.14 MB
Version:
1.7.0.1
Description:
A3 Mania Client Installer
Download
How do I Install A3 Mania?
Click on the Link above to download the A3 Mania Launcher.
Once the file has downloaded, open it to start the A3 Mania Installation.
Read and Accept the Terms of Service and choose the Installation Folder.
You can use any existing A3 Client as Installation Folder to download only the required files.
The A3 Mania Launcher will open. Please wait for the files to download.
You could launch the game once all the files have been downloaded.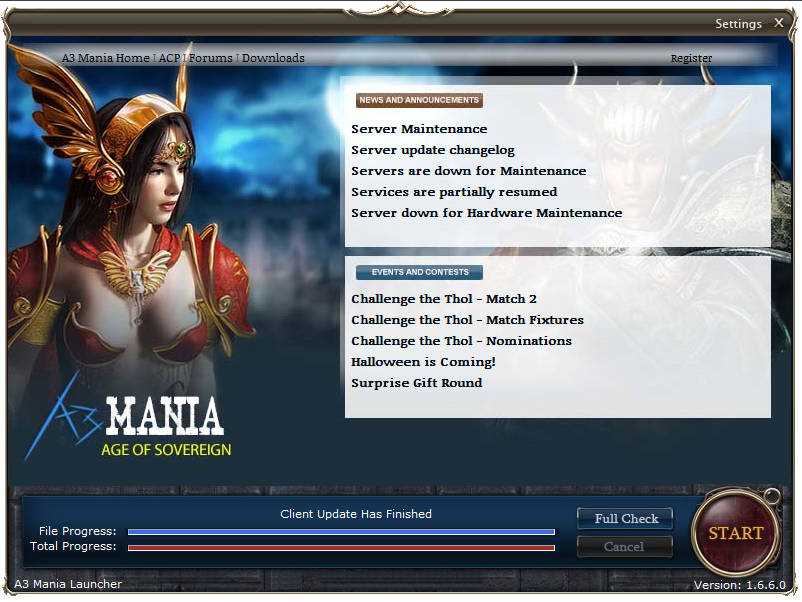 Installation Instructions
For detailed installation instructions, please refer to the A3 Guide link here.
Minimum System Requirements
Dual Core CPU 2.0 Ghz 1GB RAM
Nvidia GeForce 200 Series
AMD Radeon 3000 Series
Windows 8.1 or Higher
Recommended System Requirements
Quad Core CPU 2.4 Ghz 2GB RAM or higher
Nvidia GeForce 400 Series or higher
AMD Radeon 5000 Series or higher
Windows 10 or Higher